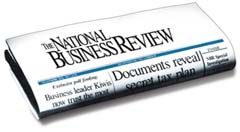 National Business Review - The Authority
This database contains the full text of the National Business Review since January 1993.
The NBR archive is contained as a separate collection in Newztext Nagazines, but is available only to site licencees. From August 17 2012 PDF versions of each page are attached to the articles.
Don't miss a single important issue!
Subscribe toThe National Business Review NOW.
Phone FREE in New Zealand

0800 801 803
Calls outside New Zealand 64 9 3071629
For faster action Fax 64 9 373 3997
Read by more decisionmakers than any other New Zealand business publication